Even more now, companies and organizations rely on information technology solutions. IT maintenance has become essential for business sustainability as the new wave of digital transformation drives small and large businesses to adopt the technology. The annual maintenance contract (AMC) enters the equation in this situation. Your IT management will be fully hassle-free with the correct AMC services in UAE.
Why Does Your Company Need AMC?
Critical maintenance and prevention.

Prevent unplanned outages

Significant cost savings for IT upkeep.

Fixed annual maintenance budget.

Prompt security and software updates.

Rapidly adapt to evolving digital developments.
Why Choose Taeknizon for IT Annual Maintenance Contract Services?
Finding a reliable IT Annual Maintenance Contract Services provider in UAE is difficult, particularly if you require technical support right away. Some of the most important things to take into account are our experience, dependability, and technical knowledge.

Top-rated AMC services:
We have gained popularity on a global scale thanks to our quality-focused services. We have been chosen as one of the top competitors in the industry for software and IT maintenance services by a number of rating agencies and consulting firms.

Proven ability:
Almost all of the major sectors have utilized our expertise and IT solutions. We can find the ideal answer for every request because we are at the forefront of software development.

Reliable Customers:
We collaborate with some of the best-known international businesses. We may remain at the frontier thanks to this experience. Big names in the education, banking, automotive, and entertainment industries are powered by our solutions.

Reliable services:
We have served hundreds of companies in overcoming technological obstacles and increasing operational effectiveness over the past 3 years. Entrepreneurs and business managers from all around the world rely on us.

Results-Oriented Strategies:
We have consistently remained laser-focused on assisting clients in achieving business objectives through the appropriate strategy. Numerous firms have reached new milestones because of our results-driven strategy.

Standardized Procedures:
We adhere to a set procedure for everything, whether it be software development, web design, or tech support. This strategy guarantees the prompt delivery of faultless solutions in addition to assisting us in avoiding surprises.
AMC Services That Taeknizon Provides: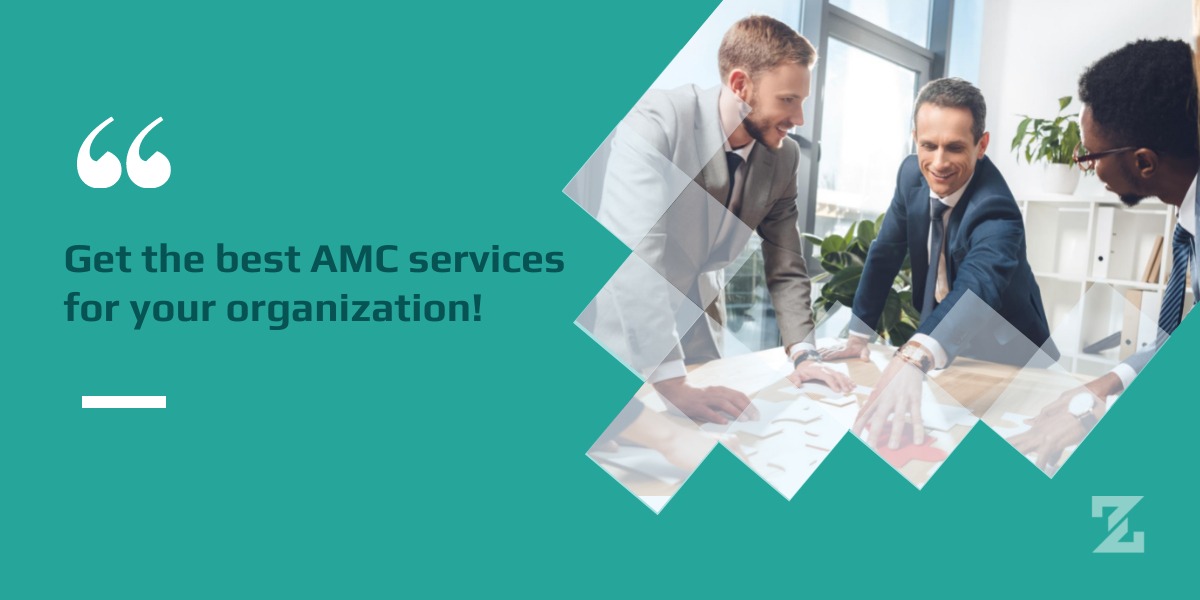 Annual Maintenance Support Services

Proactive Maintenance with Monitoring Services

Preventive Maintenance

Hardware Replacements/Warranty Services

Field Support

Asset Management.

Critical Spares Management

Managed Services

Enterprise Service Management (IT/Business Services Management)

NOC/Helpdesk Support Services
Read : Taeknizon AMC Service Details
Taeknizon AMC service provider in UAE covers a wide range, from keeping an eye on IT settings to boosting websites and providing quick troubleshooting. Serving a wide range of clients over the years, from independent merchants and early-stage startups to conglomerates and top organizations worldwide. Taeknizon offers a range of support services that intends to take care of your demands. Starting with a single system to a complete IT infrastructure, we will provide you with satisfactory and excellent customer support services on a 24/7 basis.
For more details Call +971 43200228 / Dial our toll-free number 800843 to schedule a FREE demo!